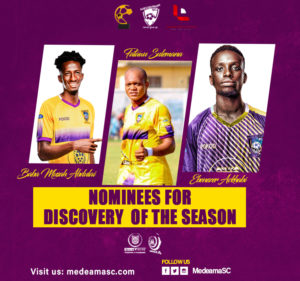 Three players have been shortlisted for the Discovery of the Season ahead of the Luxury Touch Hotel – Medeama Awards night on Friday.
Speedster Ebenezer Ackahbi, defenders Baba Musah Abdulai and Fatawu Sulemana have been nominated for the award.
EBENEZER ACKAHBI
Ackhabi, has been a toast of fans with his immense talent. The youngster impressed heavily in the year under review and highly regarded as one of the future stars of the club.
BABA MUSAH ABDULAI (25 APPEARANCES)
The centre-back enjoyed a decent run of form in the year under review.
A mainstay of the defensive set-up of the club, Baba improved tremendously and worked his way into the starting XI at a relatively shorter space.
He clocked 25 Premier League appearances and three FA Cup matches.
He won two MVP's and one Fans Player of the Match.
FATAWU SULEMANA ( 14 APPEARANCES)
The 18-year-old made his mark when he got the chance in the team.
The former Miracle Land FC clocked 10 Premier league and four FA Cups under his belt.
Fatawu improved tremendously in the year under review, staking a massive claim in the starting XI for crucial part of the season.