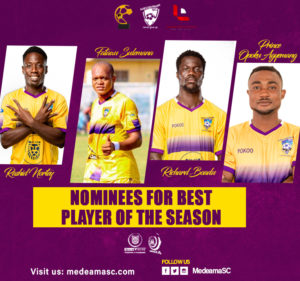 Four outstanding players are in the frame for the Best Player of the Season Award ahead of the Luxury Touch Hotel – Medeama gala on Friday.
Defender Fatawu Sulemana, striker Prince Opoku Agyemang and midfielders Rashid Nortey and Richard Boadu have been shortlisted for the top most individual award on the night.
The four players impressed superbly and have been nominated for the top award scheduled to take place at the famous Luxury Touch Hotel in Tarkwa.
FATAWU SULEMANA ( 14 APPEARANCES)
The 18-year-old made his mark when he got the chance in the team.
The former Miracle Land FC clocked 10 Premier league and four FA Cups under his belt.
Fatawu improved tremendously in the year under review, staking a massive claim in the starting XI for crucial part of the season.
PRINCE OPOKU AGYEMANG (18 APPEARANCES)
The Prince of goals scored 11 goals and provided two assists in a combined 18 PL and two FA Cup matches on his return to the club at the start of the second half of the season. A real goal-getter and a genius.
RICHARD BOADU (29 APPEARANCES)
The midfielder enjoyed a fabulous run of form in the year under review.
A colossus, who brought so much quality to the team. Boadu scored a goal and contributed significantly to the prospect of the team.
He has since joined Asante Kotoko on a permanent contract.
RASHID NORTEY (31 APPEARANCES) 
The midfield maestro was a key cog of the Medeama squad in the year under review.
He made 31 Premier League appearances, two FA Cup berths and won FOUR MVP's.
Nortey broke the passing record in the Ghanaian top-flight with 112 touches against Asante Kotoko – the highest by any player last season.