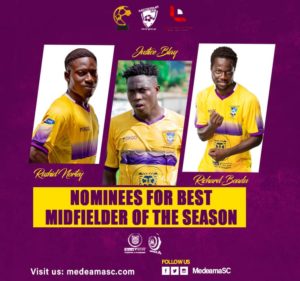 Medeama stars Justice Blay, Rashid Nortey and former ace Richard Boadu have been shortlisted for the Best Midfielder of the Season Award. 
The trio, who impressed last term, will slug it out on the red carpet for the coveted individual award.
The three players were instrumental for the side as they finished 5th in the Ghana Premier League and finished as semi-finalists in the MTN FA Cup.
The Mauve and Yellows will award deserving players and officials at the first ever Luxury Touch Hotel – Medeama SC Awards night in Tarkwa on Friday evening.
RASHID NORTEY (31 APPEARANCES) 
The midfield maestro was a key cog of the Medeama squad in the year under review.
He made 31 Premier League appearances, two FA Cup berths and won FOUR MVP's.
Nortey broke the passing record in the Ghanaian top-flight with 112 touches against Asante Kotoko – the highest by any player last season.
RICHARD BOADU (29 APPEARANCES)
The midfielder enjoyed a fabulous run of form in the year under review.
A colossus, who brought so much quality to the team. Boadu scored a goal and contributed significantly to the prospect of the team.
He has since joined Asante Kotoko on a permanent contract.
JUSTICE BLAY (19 APPEARANCES)
Despite enduring a frustrating season-ending injury, Blay  was among the standout performers on his return to the club. He scored two goals.
The combative midfielder continued his fine displays on his return to the club and contributed immensely until he was knocked out by an injury.
He made 19 appearances despite missing the second half of the season due the setback.