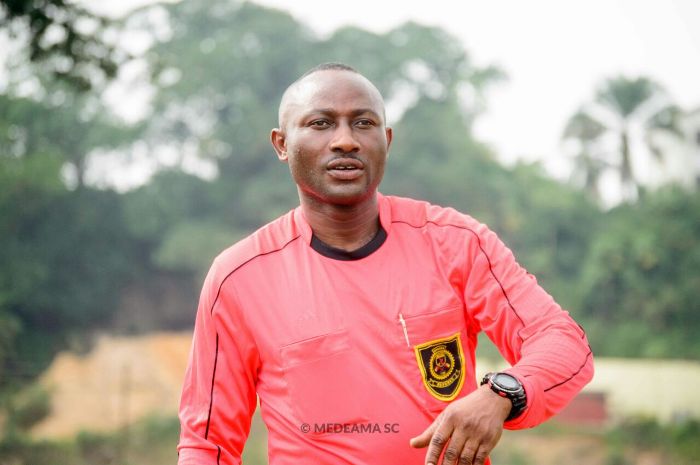 Ghanaians have been left to fish out for at least 60 'unknown  referees' who were allegedly caught on tape taking cash to influence matches in the West African nation in an explosive investigative piece which has brought football on its knees. 
The sting which implicated local and foreign officials, was part of an Africa-wide operation by investigative journalist Anas Aremeyaw Anas which sought to expose incidents of corruption in Africa.
However, only 17 officials were captured on tape via the global screening last month- leaving Ghanaians with the arduous task of fishing out for the remaining '60 unknown' match officials who were caught in the cross-fire.
A post -mortem of the Anas' exposé has left many begging questions amid claims chunk of officiating officials have been found complicit in rigging the game.
Critics who are pushing for the collapse of the Ghana Football Association have cited the large number of match officials caught engaged in corrupt officials.
But claims that a staggering 77 match officials were caught on tape appear to be a myth with no clear indication of the exact officials caught in the melodrama.
The latest scenario feeds to the suspicion that the 'exposé  sought to just create a make-believe impression of massive corruption among match officials in Ghana.
There are many who are now asking for specifics with the Tiger Eye PI team put under strict prove to name the remaining 60 'ghost referees' caught in the alleged fiasco.
It appears the documentary is falling apart each passing day as many are beginning to punch holes into the make-believe theatrics which has dominated several inches in the local media.
GHANAsoccernet.com understands the private investigative company Tiger Eye PI are yet to furnish the Referees Association of Ghana (RAG) with the rushes of the investigative piece, weeks after demanding for a full unedited copy.
Maverick politician Kennedy Agyapong is already on a crusade to expose the undercover journalist, claiming he's an extortionist and blackmailer. 
The Member of Parliament for Assin Central has also accused former Ghana FA spokesperson Randy Abbey of sponsoring the exposé, claiming he is the master-brain behind the work of the undercover journalist targeted at destroying the administration and legacy of ex-FA president Kwesi Nyantakyi.
FIFA match officials Nathan Anafo, Dawood Ouedraogo, Eric Nantiere, Theresa Akongyam , Latif Adaari Abdul and Ibrahim Adams Badiu were all caught on tape allegedly taking cash to influence the outcome of matches.
Source: GHANAsoccernet.com