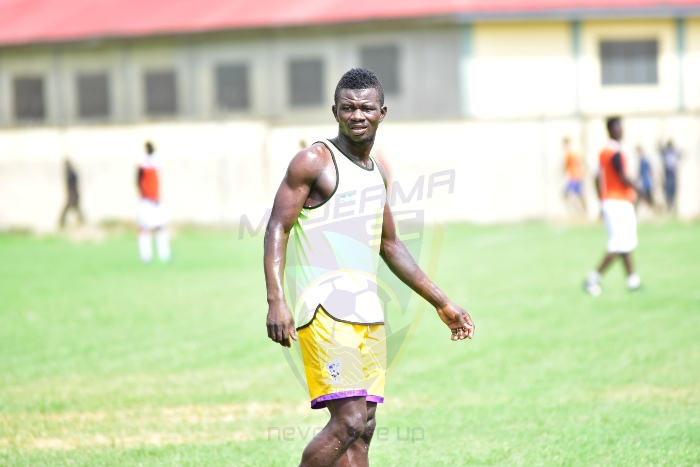 Medeama midfielder Kwasi Donsu is confident of rediscovering his set-pieces touch following recent struggles. 
The hugely talented enforcer has been goal-shy – a situation he hopes to change this term.
The former Berekum Arsenals midfielder is refusing to press the panic button, insisting the goals will come.
"I am not bothered about the lack of goals. We have just started the season and the goals will come," he told medeamasc.com
"Its understandable for our fans to be worried. But there are no fears. I am keeping my cool and composure and confident, things will begin to shape up for us."
"I'm just keep to training and practicing what I know best and I know everything will fall in place.
"It's a collective effort. If the team wins and I dont even score, it's no problem for me at all."
Over the course of last two seasons, Donsu scored 10 free-kicks in 25 games.
10 from his midfield position he contributed 15 goals in all. And there is a great variety in the free-kicks. He can bend them, he can curl them, and he is capable of hitting it from distance.
Donsu's free-kick expertise is rare in a country and league where the conventional wisdom is that the players are just awful from dead-ball situations. The belief has always been that players here just don't practice enough and are not technical enough to punish opponents for fouls around the 18-yard box.
Donsu's skills ensured Medeama were different two years ago. In their league and CAF Confederation Cup campaign, his colleagues actively sought fouls in prime areas. For Medeama, free-kicks became like penalties because of Donsu.