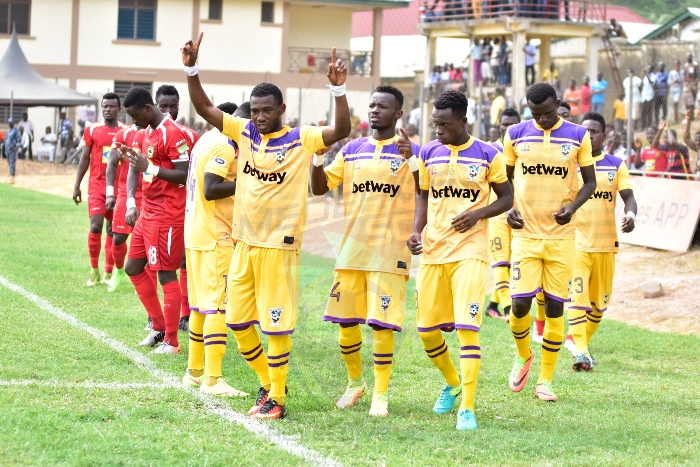 Arguably, no team has lost more star players than Medeama SC in the domestic league since 2014. Yet their assured performance against league champions Aduana Stars over the weekend, confirmed a peculiar feeling hatched by many fans of the club this campaign.
The Mauves and Yellows looked far from a team on the mend with their resolute display against the Ogya Boys. With two more games to end the first round, everyone associated with the club knows there's a long way to go and it will be foolhardy to think otherwise, regardless of their current position on the log as league leaders.
The Tarkwa-based side have built a reputation for themselves over the years – a team that tends to rather do well when the odds are heavily stacked against them. Following their fairytale campaign few seasons ago when they defeated Asante Kotoko to win the FA Cup – thus becoming the country's sole representatives in the CAF Confederation's Cup – the club has yet to chalk another monumental feat. But this season could be the year they properly force themselves into the annals of Ghanaian football.
Medeama have won the MTN FA Cup twice in the last four years, but their performances this season could spur them on to finally outdo themselves by annexing the biggest silverware in the country – the Ghana Premier League. Fashioned never to cower when competing with teams of higher pedigree, 2013 saw the club defeat Asante Kotoko to everyone's surprise in the FA Cup. They proceeded to impress in their debut African Confederation Cup campaign. Underdogs Medeama, knocked out three teams during the qualifiers and were only ousted at the final round in the cruelest of ways – penalty shootout.
They defeated teams from Equatorial Guinea, Morocco and Zambia's ZESCO United before bowing out against Congo's AC Leopards. At the time, Medeama had stars like Michael Helegbe, Godbless Asamoah, Muntari Tagoe, Hans Kwofie, Malik Akowuah, Nathaniel Asamoah, Kabiru Moro and Samuel Nzemaba. These were stars in their own right capable of competing on all fronts. Again, when they won the FA Cup in 2015, they had arguably the best midfield duo in the country, Malik Akowuah and Kwesi Donsu – a partnership that was unparalleled yet short-lived. That season, Medeama moved a step further in Africa and made it to the group stage but unfortunately they were left in the lion's den to wallow and toil. They first knocked out Libya's Al-Ittihad Tripoli, Sudan's Al Ahly Shendi followed next, before defeating powerhouse Mamelodi Sundowns from South Africa. As a team, they were far more than just a bunch of individuals.
Impressively, they defeated eventual CAF Confederation Cup winners TP Mazembe at home in the group stage, drew with finalist MO Bejaia (from Algeria) and smashed Tanzania's Young Africans – accumulating 8 points in the process. In essence, the club defeated both CAF Champions League winners Mamelodi Sundowns and Confederation Cup winners TP Mazembe all in one season and only failed to qualify from their group on goal difference.
Medeama shine brightest when the stakes are high and nobody gives them a chance. The team was studded with the impregnable Malik Akowuah, iron-footed Kwesi Donsu, Moses Sarpong, Daniel Amoah, Enoch Atta Agyei, Eric Kwakwa, Abass Mohammed, Bernard Ofori, Kwame Boahen, just to mention a few.
This season, the club is enjoying their best ever start at home in the top-flight. They've won all six home games and sit comfortably atop of the pile following their hard-fought victory against two time league winners Aduana Stars.
Medeama are relentless. Over the years the club has lost so many of their stars but just as their African campaigns proved in 2014 and 2016, they always carry that element of surprise.
There are not many stars in their current set-up aside Kwesi Donsu, who has scored 17 goals since 2014/15 season.
Since the merger cum take over in 2010/11 season, Medeama which is an Nzema word for "Brothers" have always proved difficult opponents for the top brass in the league… and quite remarkably well. Erstwhile Kessben, were 10th in the league log for three successive seasons in the topflight but Medeama have rarely fallen that low.
They've been out of the top half just three times between 2010/11 and 2017 and most often they finish in Top Four. Resonating the words of the owner and business mogul Moses Armah  (popularly known as "Mospacka") during the takeover, "We have finally completed the full takeover of Kessben FC after several weeks of negotiations. We have comprehensive plans of transforming the club into one of the giants of not only Ghana football but also African football."
The club could be on the cusp of history if they continue with their impressive form. Calmly building an empire, they boast the joint best home record this season winning all six home games and conceding just two goals. Even when their first choice goalkeeper Eric Ofori Antwi saw red in the second half of the match against Aduana, the fearlessness and zeal to draw blood was glaring.
Kwesi Donsu who scored both goals perfectly described it, "When you look at the fact that the game was headed to a draw, and the game was 1-1, we were all fighting for victory. For me I had that believe that I was going to score two goals and at the end we will carry the day."
Though there's still 17 games to play (18 depending on the outcome of their pending legal tussle with Elmina Sharks), everyone around the club knows this could be the year they ascend the pinnacle of domestic football.
"I have always said that we have good and quality players in the league and at the end of the day we hope to achieve our target. I don't [think] any player would avoid the chance of winning the league but for us, we are taking each game at a time," Donsu concluded.
"The Tarkwa side are now top of the table and have a chance to win their first ever premier league title even though the season is just in its 12th week" – reads a statement on the club's official website.
Every player at the club is putting in a shift this campaign but with little or no noise. Justice Blay and Kwasi Donsu have formed a lethal partnership in midfield, meanwhile Kwame Boateng who was rejected by Kotoko has revived his career with 4 goals this season. Even Ofori Antwi, currently the club's first choice goalkeeper has been given a good run for his money by deputy goalkeeper Yaw Ansah Fufuro – who has impressed in the few games he has played. Goalscoring midfielder, Kwesi Donsu who scored 12 goals last two seasons has already registered five this year and scored a belter as the team traveled to end WAFA's 46-game unbeaten home run.  Meanwhile, experienced Eric Kwakwa and Joseph Tetteh Zugah's have delivered the goods when needed.
On the other hand, young players such as Samuel Appiah has managed to dislodge Amos Koarankye who was regarded as the best right-back in the team from the starting eleven while Richard Boadu who was signed from a lower side has improved significantly giving more credence to coach Samuel Boadu's initial comments when he first replaced Evans Allotey.
"My target is to develop talented players for Ghana and also the rest of the world, to make them complete players someday," echoed the former Asokwa Deportivo coach.
He added after yesterday's game, "This is a great win for us and I'm so much appreciative of my players' resilience especially when we went down by one man".
Clearly the club is relishing the golden opportunity of winning the league for the first time and making Mospacka's investment finally come to fruition, but without a lot of noise nor distraction as they maintain their focus and not get carried away just yet.
By Owusu Ansah Doe